Teak Wood Characteristics
SUMMER SALE!
Through 06/04/23 ONLY!
ADDITIONAL 10% OFF ITEMS IN CATEGORY "SUMMER SALE"
even on Sale Items Already 10- 20%OFF!
Use COUPON SUMMER10 at checkout.
Click Here to see all SUMMER SALE ITEMS!
Reg. $4768.88, Sale $3996.32, After Coupon $3596.69 (Save $1172+)
IN STOCK FOR ALL SUMMER ENJOYMENT.
(excludes prior sales, cushions by themselves)
Teak is an extremely dense [40lbs cuft when dry] fine grained hardwood. Teak wood is generally straight grained, but occasionally wavy. The wood contains a high level of silica which causes rapid blunting of cutting edges.

When fresh cut the surface of the wood is dull in appearance, and the timber has a distinctive, pleasantly aromatic odor which has been likened to the smell of leather. Fresh sawn teak has a slightly 'oily' feel due to the high oil content.

One of the most commonly quoted facts about the characteristics of teak is its durability. It is resistant to rot caused by fungal decay, and the high level of resinous oil present in the timber helps to act as a natural insect repellent giving the timber very high resistance to attack by termites and other wood boring insects.

The timber is resistant to water and many chemical reagents, including acids. It does not have a strong reaction when it comes in contact with metals.
The life time in the open for untreated wood (no varnish, lacquer, paint or polishing) is 30 - 35 years.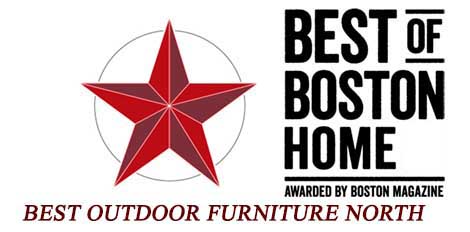 Voted Best of Boston Home, Outdoor Furniture, 2018

Featured

Testimonials
We do not compromise on quality. Grade A Teak. Premium Construction.
See our Customer Photos!
,
Check out What Customers Say about us!