Goldenteak Teak Furniture Comparison List
QUESTIONS TO ASK - TEAK PATIO FURNITURE FROM GOLDENTEAK.COM
We know you are in the market for Quality Teak Furniture at the best prices. Goldenteak.com offers you the very best Solid Teak, Grade A, Kiln Dried, Machine Made furniture with Solid Brass fittings.
Here are a few questions you must ask your vendor when you buy teak furniture..
a) Is the Teak Furniture made of Solid Grade A teak Wood? All Goldenteak furniture is made of Solid Grade A teak wood. Solid means no fingerjointing. Ask about fingerjointing in the longer sections.Some of the most famous names use fingerjointing. They spend a lot of money on marketing and make it up in this area.
b) Is the Teak Furniture Machine Made or "semi" machine made.. "Semi" machine made is what some of our competition will admit to. This really means that it is made with circular saws etc., but not made with precision drawings, tolerances and quality control. Our San Francisco Benches and Plantation Benches are machine made, but because of their curvy features, we supply them assembled. All Goldenteak Furniture is machine made to our tolerances and precision. So we have replacement parts that will fit every time.
c) Has the company been in business a long time? Who do you go to for warranty problems? For Goldenteak the answer is simple. Just call us. We import the teak furniture. We inspect the teak furniture as it is being manufactured per our specifications. We specify our designs and our requirements. We stand behind our product. This will eliminate mid level marketing companies that market anything.
d) Are the price and quality comparisons valid? We recently came across a company that compared a Teak Steamer Chair with something else from Goldenteak entirely. We encourage you to make sure you are comparing similar products, not a folding chair with a fixed chair, or a steamer chair with a chair of a different type. Or one of our tables with a table that is entirely different.
We hope this helps in your shopping experience. As always, we stand behind our product - quality, service and price.
You will never regret buying from Goldenteak.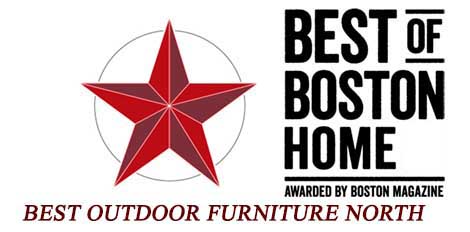 Voted Best of Boston Home, Outdoor Furniture, 2018

Featured

Testimonials
We do not compromise on quality. Grade A Teak. Premium Construction.
See our Customer Photos!
,
Check out What Customers Say about us!