Give them the gift they really want and at a great price.
Use coupon BF5 for an additional 5% off anything on the site.
When choosing a wood species for a project (say garden furniture), it is critical that you define the requirements.
Your requirements and constraints could be:
Environment (Outdoors, salt air etc.)
Good Natural color
Good Weathered Color
High Resistance to boring insects like carpenter ants and termites
High Resistance to checking and splitting
High Resistance to splintering
High Strength (requires less bulky sections)
If your requirements were as stated above then the choice of teak is very good as it offers low shrinking and swelling, good color with age, natural decay resistance, natural oils that repel water, and good strength. Honduran mahogany is also reasonable, as it provides most of the needed properties. However, Honduran Mahogany does shrink and swell with wetting and drying more than teak, so some checking and splitting can be expected.
Note: There are three wood species (not related and with considerably different properties) that we call mahogany--African, Honduran, and Philippine mahogany.

Of our native American species, we don't have one that stands out as being fully acceptable. Most softwoods are not suitable due to resin exudation or their low strength. Old growth cypress is one possibility. Many hardwoods are prone to checking or are very low in strength. Woods like black locust or Osage orange, which are good candidates, are hard to find, machine with some difficulty, and have high enough shrinkage to cause concern about splits. Walnut is a strong possibility, but when wet it might leach a little, causing a person's white pants to become discolored if they sat on wet furniture; same problem with Osage orange. (American chestnut would be a good candidate too; lumber is still available.)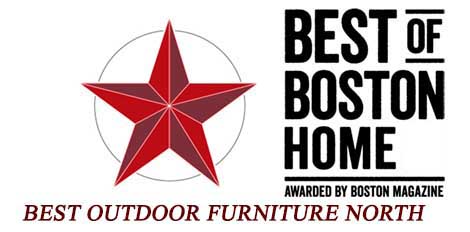 Voted Best of Boston Home, Outdoor Furniture, 2018

Featured

Testimonials
We do not compromise on quality. Grade A Teak. Premium Construction.
See our Customer Photos!
,
Check out What Customers Say about us!