SUMMER SALE!
Through 06/04/23 ONLY!
ADDITIONAL 10% OFF ITEMS IN CATEGORY "SUMMER SALE"
even on Sale Items Already 10- 20%OFF!
Use COUPON SUMMER10 at checkout.
Click Here to see all SUMMER SALE ITEMS!
Reg. $4768.88, Sale $3996.32, After Coupon $3596.69 (Save $1172+)
IN STOCK FOR ALL SUMMER ENJOYMENT.
(excludes prior sales, cushions by themselves)
Teak furniture can be cleaned with soapy water and a soft bristle brush to remove accumulated dirt. The furniture should be rinsed well so that the dirt and soap do not leave behind drying stains.

Pressure washing is not recommended, since it can scour and roughen the wood surface. It is best to clean teak furniture with a sponge or a non abrasive dish scrubber.
Most stains on teak can be washed or wiped off with a mild soap and water solution. Stains from fat or red wine, or colorful children's juice drinks may take more effort. For such stubborn stains use a weak solution of bleach and water combined with dishwashing detergent. You can use a non abrasive pot scrubber or soft brush to agitate the surface. If the stain still persists a light sanding with 150 grit sand paper will do the trick.

Of course, if you let the stains remain, they will slowly fade over time with exposure to the elements. The cleaning process described above is only necessary if you wish to remove the stain quickly.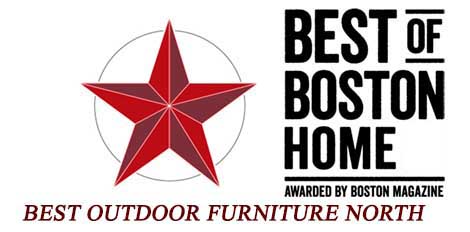 Voted Best of Boston Home, Outdoor Furniture, 2018

Featured

Testimonials
We do not compromise on quality. Grade A Teak. Premium Construction.
See our Customer Photos!
,
Check out What Customers Say about us!