Give them the gift they really want and at a great price.
Use coupon BF5 for an additional 5% off anything on the site.
Teak Wood should be kiln dried for about three weeks to a moisture content of about 8% before used in manufacturing of teak outdoor furniture.

The drying process increases the stability and hardness of the wood.
If Teak Wood is not properly dried (internal areas have a higher moisture content) then the furniture is subject to splitting and warping if used in an area of low atmospheric humidity (most of the United States).

As wood dries, it shrinks. If the outer layers of the wood are dry, but the inner layers are not when the furniture is manufactured, then as the inner layers adapt to the atmospheric moisture content (sometimes a period as short as 6 – 10 days) the wood warps or splits to accommodate the shrinkage.

If the teak wood was properly kiln dried, then the outer and inner moisture content is the same, and the furniture will be stable.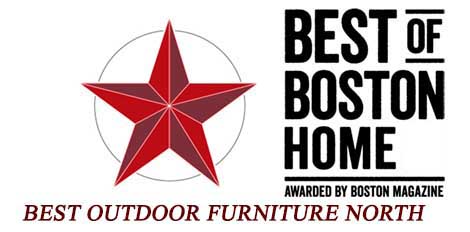 Voted Best of Boston Home, Outdoor Furniture, 2018

Featured
Testimonials
We do not compromise on quality. Grade A Teak. Premium Construction.
See our Customer Photos!
,
Check out What Customers Say about us!