Goldenteak - Grade A Teak wood
What is Grade A Teak?
Goldenteak Offers only PREMIUM QUALITY TEAK PRODUCTS. Click for more details.
Goldenteak uses Grade A Teak in all its products. Goldenteak products are offered unfinished (without stains or finishes) so that you can see the quality of the wood, as well as make your choice of finish.
We at Goldenteak refuse to compromise on quality and comfort by selling anything other than A Grade solid Plantation Grown teak wood product. We NEVER stain or paint our product but offer it in a buttery smooth Natural Fine Sanded finish. We will not sell you B/C grade teak wood, "teak look", "select teak", acacia or any other wood that is cheaper and less long lasting than Grade A. You can get a bench for $500 in B/C grade teak wood, or $700 in Grade A from us. B/C Grade is more porous, softer than Grade A, with a lot of white sap wood and lasts a fraction of the time as Grade A Teak. Boat decks only use Grade A teak because they are expensive and hard to replace. Customers are led to believe that B/C Grade Teak wood that has been camouflaged with stain is as good as Grade A Teak. It is deceptive marketing.
Several companies offer teak products at what seems like absurdly low prices. If you look carefully at their offerings you will notice that their wood grades are what is called Grade B/C in the industry.
GRADE A TEAK - Goldenteak
Notice the uniform color, lack of sapwood (soft wood) (white), lack of knots (dark spots, will pop out with time). Goldenteak Teak Grade A.
Grade B/C Teak
Notice the NON uniform color, Mixture of Sapwood with regular wood (white), preponderance of knots (dark) and non uniform grain. Grade B/C
Why is Grade A important? Grade A teak offers the most longevity. It is the hardest wood from the teak tree. Only knots of less than 0.5 inch are allowed, and only one to two knots per meter. The specification allows for blemishes to be on the underside of the products.
Grade A Teak comes from the Heart of the Teak Tree (the Heartwood). It is the section with the most oils, the most silica and rubber type compond. It is the oils that allow the teak hearwood to be rot and insect resistant. It is also the oils, rubber and silica that give grade a teak, heartwood, its longevity. The Sapwood (Grade B/C) product is the younger section of the tree, with less oils, less rubber and silica. Therefore the Sapwood (Grade B/C teak) is not as long lasting, nor as resistant to insects and decay. The uniform golden brown color of the hearwood is from its concentrtaion of oils, silica and rubber. See how Grade A Teak is selected below.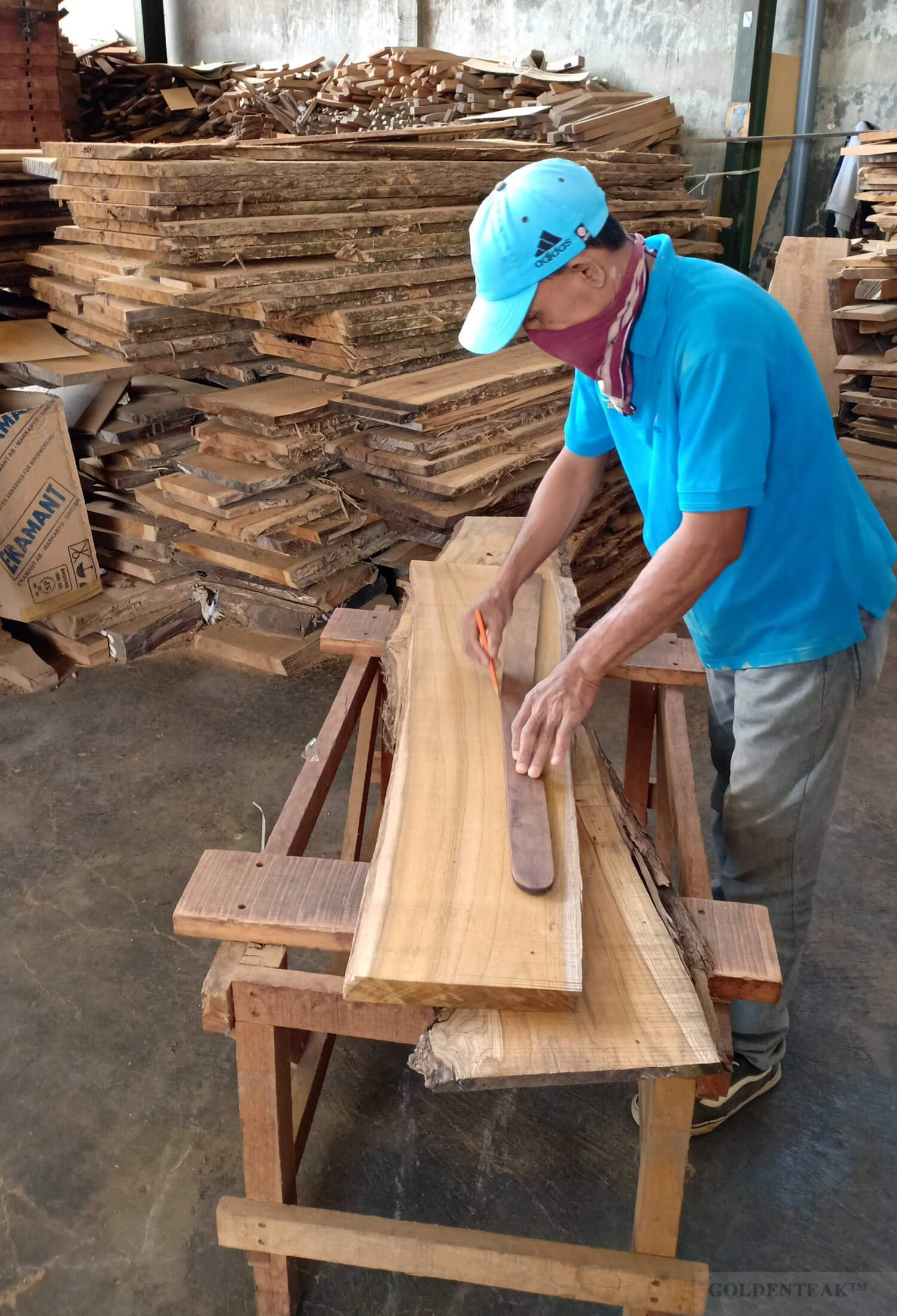 Goldenteak uses only real Grade A teak wood. Therefore we can offer a 5 Year warranty on the teak.
All GOLDENTEAKTM brand products provide excellent quality at reasonable prices. Below is a consumer fact sheet with information on quality specifications for teak patio furniture or indoor furniture. Please call us at (978) 689 4041 for any additional questions. Pictures showing the quality of our teak furniture can be found at the bottom of this page.
GOLDENTEAK products never use fingerjointing in our chairs and benches. Fingerjointing is when smaller sections of wood are used to create a larger piece. This is most often used in curved sections, or on the back leg of benches where there may be a slight contour. Fingerjointing does save the manufacturer and the seller money, but it also results in a weaker joint and non matching colors at the joint. If you oil your bench, or stain it, or polyurethane it, you will find that the fingerjointed sections show marked contrast.  We have noticed a of manufacturers and retailers are selling fingerjointed product and wanted you to be aware. You can read more about this here.
GOLDENTEAKTM brand products conform to the following quality specifications:
A) TEAK WOOD - SOLID, GRADE A.  All GOLDENTEAKTM brand products are made of Solid Grade A Teak Wood sustainably harvested from renewable Government Plantations in Indonesia (perum perhutani, harvested at 20 year cycles, first planted by Dutch Colonists about 200 years ago). We use solid pieces of wood (rather than fingerjointed sections) for all our construction.
B) KILN DRIED. All Solid Grade A Teak Wood used in GOLDENTEAKTM brand products is kiln dried to a moisture content of 8 - 12%. This process is vastly superior to Air Drying offered by others. Kiln Drying ensures wood dryness at the core (not just the surface) and therefore eliminates or reduces checking,  cracking, splitting and warpage - important considerations when shopping for teak patio furniture.
C) MORTISE AND TENON JOINERY. All GOLDENTEAKTM brand products use Mortise and Tenon joinery in their construction.  This is the most superior of all construction methods, resulting in solid durability.  The Tenons are secured in the Mortises with Teak Dowels or screws as appropriate.
D) MACHINE MADE. All GOLDENTEAKTM brand products are Fully machine made. Machine made construction is about 50% more expensive in Indonesia, since it requires investment in machines and stricter process control. Fully Machine Made is superior to partially machine made as well as hand made. Fully machine made product allows for part interchangeability and easier assembly. Machine made products are more precise, and allow Goldenteak to ship these products Flat Pack Assembled, and have replacement parts that fit when you may experience shipping damage.
E) FLAT PACK ASSEMBLED. GOLDENTEAKTM brand products are Flat Pack Assembled where possible. This method of delivery ensures less shipping damage, and reduces shipping costs, shipping being charged based on Actual Weight rather than Dimensional Weight.
F) SPECIAL CONSTRUCTION FOR TABLE TOPS. All GOLDENTEAKTM brand Tables have fingerjointed construction at the joints. This produces a more solid Table Top, and is considered the best practice for Table Top construction.

Thanks for your interest in Teak Patio Furniture and Garden Furniture from Goldenteak.com where we provide GOLDENTEAKTM Solid Grade A Kiln Dried Teak Wood Products. Teak Chairs, Tables, Loungers, Benches, Indoor Furniture and Teak Outdoor Furniture are all available at competitive prices. We also carry cushions for all the products in our inventory.